Money managers Doug Loud and Jeff Mosseri of Greystone Asset Management LLC. have some simple advice for gold investors: Relax.
Supply and demand will reassert its reign quite soon, and, when that time comes, both gold and gold equities will appreciate quickly and significantly from their current levels. In this interview with The Gold Report, they highlight several producers and explorers with the management, cash and projects needed to spring forward when the market turns.
Douglass N. Loud joined Greystone Asset Management LLC. at its founding in 2005 and has been senior managing director of Axiom Capital Management Inc. since 2009. Prior to that, he was with Murphy & Durieu, where he served as executive director of the Private Clients Group. Loud has over 35 years of investment management and securities industry experience. He holds a degree from Yale University and a law degree from the University of California, Berkeley.
Jeffrey N. Mosseri established Greystone Asset Management LLC. in 2005 and became a director of Axiom Capital Management Inc. in 2009. He was a stockbroker and investment manager at Goldsmith & Harris for 20 years. Mosseri also worked as a stockbroker and investment manager for Carnegie Capital, the investment advisory division of Prescott Ball & Turben, where he ran the international arbitrage division and developed the gold mining research and investment department.
---
The Gold Report: The gold sector entered full-blown panic mode in July with the Bloomberg analysts forecasting a dip below $1,000 per ounce ($1,000/oz) this year, and Deutsche Bank forecasting $750/oz. Is this just fear feeding on fear, or is there something else going on?
Jeffrey Mosseri: It is fear feeding on fear, but there are two other things going on. The first is the strength of the dollar, and the second is the weakness in the price of oil. Combined, these two factors have greatly and negatively affected the prices of all metals in U.S. dollars. Over the past year, gold is up 20–40% in many currencies.
TGR: In the last couple of years, the idea that the price of gold is being manipulated downward is no longer dismissed entirely as a conspiracy theory.
Douglass Loud: I wouldn't want to use the word "manipulation," but you could have an analyst predicting a gold price of $1,050/oz, followed by someone on the trading desk shorting it down to $1,050/oz, without any collusion.
TGR: How big a role does China have in setting the gold price?
JM: The biggest purchaser of gold in 2014 was the Russian central bank. China was second. This year, as gold has fallen below $1,100/oz, imports to China are headed for a record. I wouldn't call this manipulation necessarily, but the Chinese are definitely taking advantage of the lower price, as are the Russians, the Indians and the central banks of many other countries.
TGR: It is rumored that China intends to float a new reserve currency, backed fully or partially by gold bullion. What effect would this have on the supremacy of the U.S. dollar?
JM: The U.S. dollar remains, as I like to say, the cleanest dirty shirt in the laundry basket. There is an entirely clean shirt in the closet, however, and that's gold. At some point, investors will want to own that clean shirt, at which point the U.S. dollar will follow all the other currencies downward.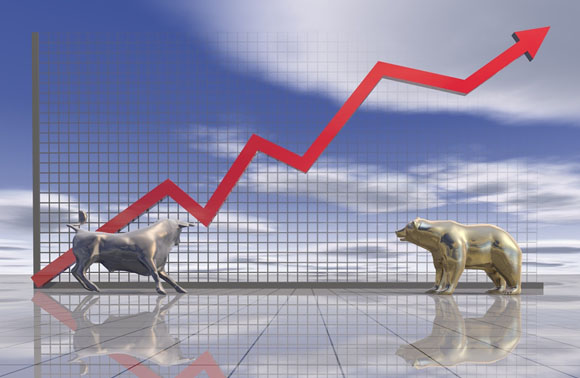 TGR: Jeff, you said in "Demand for gold and silver bullion is quite high, but the paper market is about 50 times the size of the physical market, so games can be played in the paper market." Given the domination of the gold market by paper gold, is it still proper to call gold a safe haven?
JM: Absolutely. There's a lot of shorting going on in the commodity markets today, but supply and demand will win in the end, and the paper market will follow the bullion market. When this happens, we're going to see short covering, as we've had in the past, which will result in a gold rally of a couple hundred dollars or more.
DL: It's like going to the beach, watching the waves, and waiting for the tide to come in. One of these days there's going to be a big catch-up in gold when the tide finally comes in, regardless of what the waves are doing.
TGR: Can gold producers continue to make money at $1,100/oz?
JM: The current gold price is flirting with the cash cost per ounce for many mines. Should gold fall much below the current price, and stay there for a while, we'd soon see mine closures. If that occurred, the gold supply side would be greatly reduced, which would put upward pressure on the gold price.
DL: Gold supply is impacted by other factors as well. First Quantum Minerals Ltd. is being forced to shut down its Sentinel copper mine in Zambia because it can't get the electricity it needs. Gold mines there and in South Africa, as well, are being hit with lack of power. And that will affect the supply of gold.
TGR: The oil price collapse is now nearly a year old. Doesn't this suggest a fundamental weakening of the world economy expressed by a reduction in demand?
JM: Not necessarily. What we have is a huge amount of supply at the moment. So much of it is stored in tankers that we have a tanker shortage. But this oversupply will eventually work its way through the market. In the meantime, cheap diesel fuel has resulted in a dramatic reduction in mining costs, and this has lengthened the amount of time that gold will sell at a lower price.
TGR: When do you see a rebound in the price of gold?
JM: It's difficult to predict, in view of all the factors mentioned above, but we will probably see a bounce in the second half of this year, and more thereafter.
TGR: Why are you confident that gold equities will soon make a comeback?
JM: Gold equities are now selling at ridiculously low valuations. These valuations will be adjusted when it is believed that the price of gold will rise. A breakout in the equities will be the signal that the gold price has bottomed and will be moving significantly higher.