Despite widespread pessimism, apathy, and derision towards the sector, gold and gold stocks present an extremely rare opportunity.
Gold stocks are on track to record five years of losses starting in 2011 with the $HUI gold bugs index plunging 84% from 2011 to 2015. Gold is on pace to put in a three plus year bear market with three years of losses. But the utter destruction in this sector is what has created an awesome opportunity. The only question is the timing of when this can be capitalized on.
Stage 4 bear markets are what create massive opportunities for upside gains and new Stage 2 bull markets. A bear market causes investors to panic out of a sector. Selling begets more selling until finally the sector bottoms out as sellers become exhausted. After a bear market a Stage 1 base forms which is a period of disinterest in a sector as investors favor other sectors. The sector may remain "cheap" and drift sideways for a long period of time, from months to even years.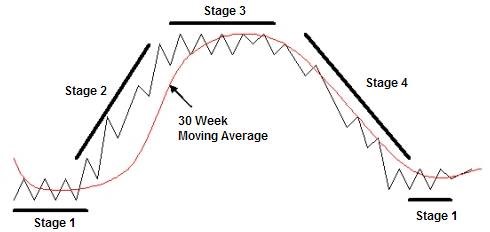 When enough investors come back into a sector to force a breakout of the Stage 1 base a new bull market is born. This is the most exciting and profitable time to enter into a position in a sector. At this point the sector is still "cheap" because of investor disinterest, but it is now being bid up in a new and often explosive trend higher.
This produces massive gains for those brave enough to enter early. They are usually looked at with skepticism buying into a beaten down asset class early in an uptrend. But this healthy skepticism is what fuels the climbing of the "wall of worry" that is a hallmark characteristic of a new bull market.
For an offbeat but instructive example of how bear markets produce incredible opportunities consider the airlines sector. From the early 2000s until the depths of the financial crisis in 2009, the airline sector as represented by $XAL declined by roughly 90%.
Airlines had been a terrible investment for a long time, and with oil seemingly in a perpetual bull market airlines appeared to never be a good trade. But counter-intuitively the destruction in the airlines sector is exactly what created the massive opportunity airline stocks have been the past seven years.