The last Gold Market update, posted at its recent peak on the 11th, called for a significant reaction back by gold, and that is exactly what has since happened. It also called for a rally in the dollar, which hasn't happened yet, but as we will see in this update, it looks likely to happen soon, and given that gold's COTs have barely eased on the current reaction to date, it, therefore, seems likely that gold will lose more ground on a dollar rally.
On gold's 2-year chart we can see that it was at a good point to reverse to the downside early in the month as it had risen into the zone of substantial resistance in the vicinity of its mid-2016 peak. A potential channel is shown, and if it should drop back to the lower boundary of this channel, as looks likely given the immediate outlook for the dollar, it would drop back to about $1,250, and COTs suggest it could go lower still.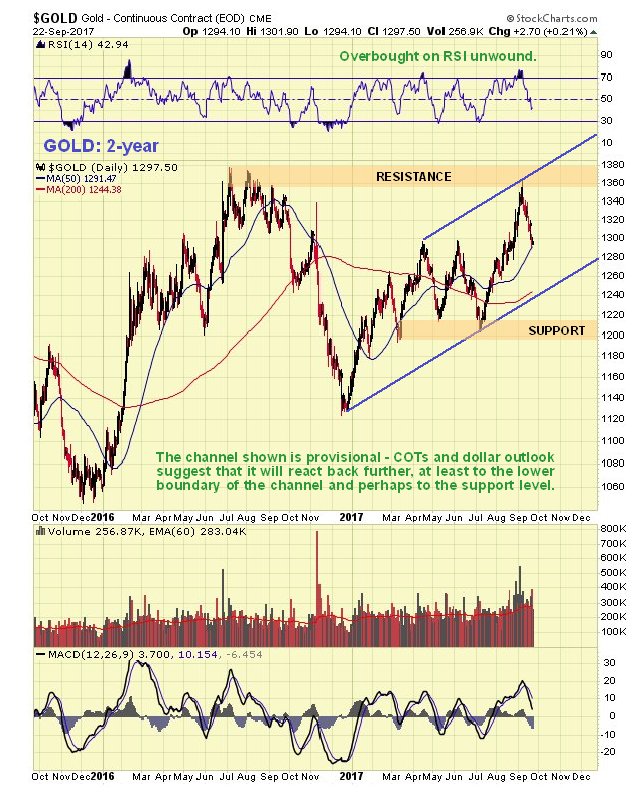 The latest COT chart shows that, as mentioned above, positions have barely eased on the reaction of the past two weeks—the Commercials still hold a high short position and the Large Specs a high long position. These positions will probably need to be "wrung out" before gold can resume the upward path, especially as the technical outlook for the dollar is for a significant rally over the short to medium term.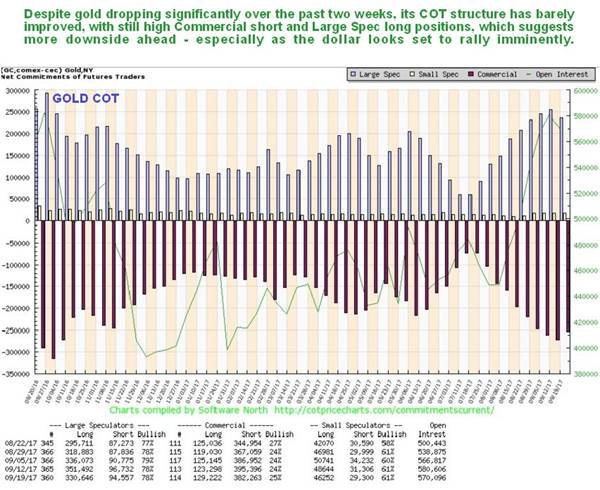 The key charts for us to consider in relation to gold are, of course, those for the dollar, now more than ever. On the 6-month chart for the Dollar Index, we can see that it has become more "agitated" over the past week or so, with a number of larger white candles appearing on its chart. This is bullish, especially as the lows early this month were not at all confirmed by momentum—the MACD shows downside momentum dropping out at a time when the dollar and its 50-day moving average have opened up a large gap with the 200-day moving average, and at a time when the dollar has arrived at support at the lower boundary of its large Broadening Top formation—it's time for a last gasp "swan song" rally before the dollar makes a graceless exit from the stage through the trapdoor—that's when gold and silver will take off.