December 14, 2009 - New York , NY - The Hennessee Group LLC, an adviser to hedge fund investors, predicted silver would outperform gold in early 2009 and advised clients to accumulate positions in the precious metal as it appeared underpriced relative to gold. Charles Gradante, Co-Founder of the Hennessee Group, stated "Despite the gains in 2009, we continue to believe both gold and silver serve as safe haven investments, particularly as a hedge against the longer-term risk of hyper-inflation."
Gradante added, "And while the gold to silver ratio has normalized in recent months, we still expect silver to outperform gold going forward, especially if we see further advances in industrial demand from the emerging markets and continued fear of rising inflation." The Hennessee Group believes the supply/demand dynamics of silver continue to present a strong case for the appreciation in the precious metal going forward, specifically due to its increased global industrial demand (caused by emerging markets) outpacing supply.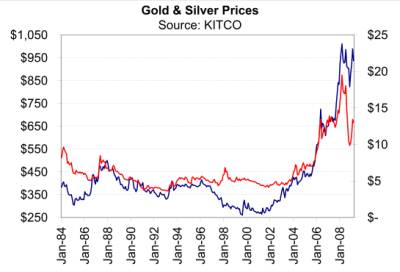 The Hennessee Group continues to believe that gold and silver will be profitable asset plays in either a deflationary or inflationary environment.
Reversion of the Gold to Silver Ratio
The dispersion in performance between these two precious metals in 2008 led to a drastic widening in the gold to silver ratio from 50x in early 2007 to 72x. "This was the highest spread since 2004 and served as a buy signal for silver from our perspective." Gradante added, "Fast forward to today, and the question becomes is silver still in a position to outperform despite the strong gains in 2009 relative to gold (+58% vs. +28%). We believe so."
Supply/Demand Story of Silver
Please see our prior paper for details: http://www.hennesseegroup.com/releases/release20090317.html

CONCLUSION
Despite the reversion in the gold to silver ratio in 2009, the Hennessee Group believes silver continues to be a long term investment opportunity. Charles Gradante stated, "The 2009 jump in commodity prices, particularly precious metals, is the beginning of a longer term upward trend that is likely to be exacerbated by deficit fiscal spending and an extremely accommodative monetary policy, resulting in a modest shift out of paper assets into hard assets."